Paceco and the Salt Pans Reserve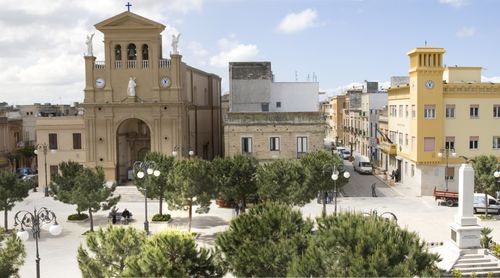 The history of the small village officially begins in 1602, when the Viceroy of Spain granted to Don Placido Fardella a "licentia populandi" (dwelling authorisation). To honor his wife Maria Pacheco y Mendoza, Prince Fardella decided to call the new settlement "Paceco". A high and healthy spot is chosen, primarily to avoid the risk of malaria. It would prove to be a good choice, because the new village attracts many people from the surrounding areas.
Paceco today continues to attract residents from neighboring municipalities for its position is strategic compared to other locations. While keeping an agricultural character, the town is trying to take advantage of new opportunities offered by tourism, which has its center of attraction in the nearby Salt Pans Nature Reserve.
For more information: http://www.pacecoweb.it/paceco/
The salt pans of Trapani and Paceco: one site, a thousand wonders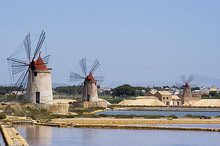 A scrap of nature deeply "revisited" by man. A landscape, a breeding site, a place of beauty. The "Salt Pans Oasis" (about 1000 hectares) is located within a Site of Community Importance straddling across the municipalities of Nubia-Paceco and Trapani. A journey around the pools, canals, windmills, farms; an interplay of colours that make sunset there the finest in the Mediterranean area. Walking along the canals of the salt pans of Trapani, the only audible sounds are those of the waves and seagulls. The rest is just horizons, heaps of salt, and birds flying past.
The "Trapani and Paceco Salt Pans" nature reserve was established in 1995 and entrusted to the Italian branch of WWF that is still looking after it. The salt pans are an important resting place for thousands of birds during migrations in fall and spring, so the area is of particular interest for bird-watching; so far 208 species have been counted, including some wintering species (flamingos, spoonbills, egrets, herons, marsh harriers, waders and more than 5,000 ducks) and other nesting species (avocets, plovers Italy, little terns, plovers, lark).
Contacts and opening times
Open to the public for guided tours, all year round, upon reservation, Wednesdays, Fridays, and Saturdays.
Access to the oasis: provincial road 21 Trapani-Marsala - Visitors Centre at Maria Stella Windmill - 91027 Nubia-Paceco (Trapani)